The Durham County Courthouse is open for certain types of business before the Court.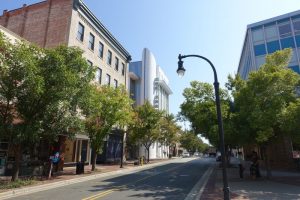 While public access is extremely restricted, some legal matters must be heard due to Constitutional and statutory requirements.
Even under the Coronavirus lockdown rules that are in place, mandatory hearings may include things like bond hearings for in-custody defendants, Domestic Violence Protective Orders pursuant to Chapter 50B of the North Carolina General Statutes, and other mandatory first-appearance related matters.
Criminal defense lawyers in Durham, prosecutors, judges, deputies, and clerks of court are considered "essential" personnel.
As officers of the court, attorneys are extremely important to the timely administration of justice.
Our law office remains open for business.  We're here, helping people with their DWI charges, felony and misdemeanor cases – Cole Williams, Durham Criminal Defense
If you have questions or a pressing legal matter, we recommend you call our law office now:  919-688-2647
You may also email Colle Williams at NCW@ColeWilliamsLaw.com
How do I get my case in Durham continued?
The Durham County Courthouse and court proceedings are currently subject to an Order of the Court due to COVID-19 and the Coronavirus.
If you have concerns about your criminal charges and upcoming court dates in Durham, we may be able to help answer your legal questions.
Contrary to some saying, "The courts are closed," certain legal matters will continue to be heard, including:
Ex Parte requests for 10-Day Domestic Violence Restraining Order (DVPO – Protective Order)
Hearings pursuant to Chapter 50B Domestic Violence Protective Orders
Chapter 50C Requests for Emergency Relief (Restraining Orders not related to Domestic Violence)
In Custody Probable Cause hearings in Criminal Court
"Emergency Matters" involving criminal charges
Other cases where the Defendant is not in custody (jail) may be continued by the Order of Senior Resident Superior Court Judge the Honorable Orlando F. Hudson, Jr., and Chief District Judge Pat Evans (Durham County, NC).
It's a good idea to confirm whether your court date will be continued, rather than assume.  That's especially true for legal issues involving emergency hearings and 50B Protective Orders  – Cole Williams, Durham Attorney 
During this period of "social distancing" and continuing cases, the processes and procedures to Strike an Order for Arrest or "OFA," negotiating tickets, and filing Limited Driving Privileges are modified.
Cole Williams Law recommends you consult with an attorney to determine whether you need to appear in court for a Chapter 50B DVPO and other "emergency" hearings.
In those instances, if you are the Defendant or respondent to civil allegations, the opportunity for a continuance may be limited by local procedures and rules, as well as the NC Laws.
Each case is different.  Seek experienced legal counsel immediately.
Will my case be dismissed?
While our court system is continuing many matters, including traffic tickets, certain misdemeanor and/or felony charges, the State will continue to prepare and prosecute charges once the Coronavirus shutdown ends.
Prosecutors are preparing their cases, assembling discovery, and talking with witnesses in anticipation of courts reopening.
This time is unprecedented in the legal system.
With so many matters being continued, Durham dockets, and the court system as a whole, are clearly going to feel the effects of such a longterm shutdown.
Defense lawyers anticipate a substantial backlog that may last well into this summer and fall of 2020.
At the same time, it would be a mistake to assume that the Durham DA's Office is going to automatically begin dismissing charges.
Allegations for things like Felony Death by Vehicle, Manslaughter, Drug Trafficking, and serious Felony Assault Charges may be prosecuted to the fullest extent of the law.
If you have pending matters in Durham County, now is the time to work on your defense, review discovery, and seek legal advice from an experienced defense attorney – Cole Williams
The State may be willing to review and negotiate certain criminal charges with your attorney, depending on the nature and severity of the allegations, witness availability, and after careful consideration of your criminal record.
If you would like additional information about plea negotiations, deferred prosecution, or the possibility of participating in a Conditional Discharge plea, call Cole Williams now to schedule a consultation.
Criminal Charges in Durham NC